At Harman Wealth Management, we provide private, advanced, independent planning and investment management to individuals, families, and institutional clients.
Comprehensive Financial Planning
Objective. Strategy. Results.
Big picture thinking guides clients to long term results.
Investment Management
Macro-Driven Asset Management
Thoughtfully designed for both the ups and downs of full cycle markets.
Institutional Consulting
An Experienced Perspective
Fiduciary consulting for company sponsored retirement plans. Investment guidance for nonprofits and foundations.
As a fiduciary, we work strictly for our client's best interest.
Since 2013, I've advocated at the highest levels of Washington D.C. to improve how investors are served from the financial community. We build these high standards into the fabric of our practice. No matter what the solution, the clients' best interest is always first.
Dean Harman, CFP®
Managing Director, Harman Wealth Management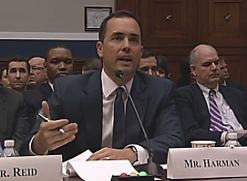 Financial Services Institute (FSI) board of directors 2013-2019.
Served as Chairman of the Board of FSI during 2018.
FINRA Advisory Board member.
In 2015, testified to House of Representatives' about evolving fiduciary standards.
Asset Management with A Modern Touch
Our investment philosophy honors Nobel prize-winning contributions to portfolio management:
From legacy principals of diversification and efficient markets to more recent breakthroughs from behavioral finance on the irrationality of market participants.
PURSUING THE ART AND SCIENCE OF INVESTMENT MANAGEMENT.
Access disciplined investment strategies designed to help you achieve your goals.
SIGN UP FOR OUR PERIODIC INSIGHTS
Keep Up with Our Latest Thinking
Opportunity evolves and risk never stands still. We help clients adapt to the changing nature of markets, proactively adjusting portfolios and financial plans to reach their most important goals.